June 26, 2020
News
Press Release
BanaDIVE™ AX Interactive Virtual Character Performance System Integrating game AI and xR. The first in the world.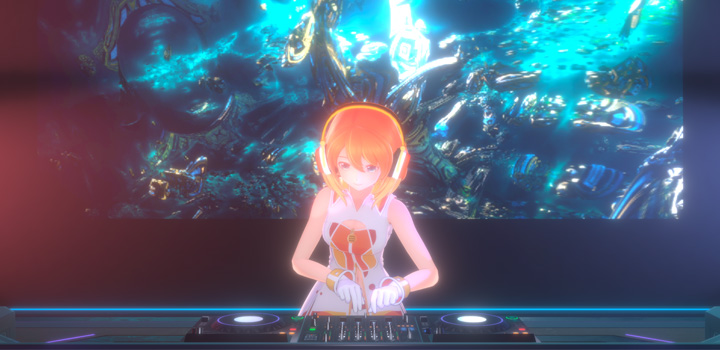 In pursuit of our vision of "Creating New Values in Entertainment", BANDAI NAMCO Research Inc. (hereinafter referred to as "BNR") has successfully developed the "BanaDIVE™ AX", an interactive virtual performance system created by integrating game AI (Artificial Intelligence)*1 and xR technology*2.
In this system, using pre-analyzed music, the game AI that incorporates DJ performance (seamlessly joining music, controlling the tempo of music, arousing the audience etc.) is linked with the motions of 3D characters and ambience generated in a live music entertainment venue. We also incorporated interactive entertainment elements such as song selection by real-time voting, music linked visual production and AR audio visual direction. As a result, DJ and audiences can, whether at the venue or in remote locations, experience immersive live performances together,
In addition to producing live events organized by Bandai Namco Group and conducting experimental collaborations with characters and music creators, BNR will continue to conduct research and development of future entertainment, including collaboration with deep learning-based AI and mechanism to arouse audiences around the world.
*1 Game AI is a technology based on logicalized behavior of characters and used in many games, such as the monster behavior AI in the video game Pac-Man and COM player behavior control of fighting game "Tekken".
*2 xR technology is a generic term for expression technology that combines the real world and virtual worlds, such as AR (augmented reality), VR (virtual reality), and MR (mixed reality), and is used in various entertainment content in addition to games.
In addition, we are holding an experimental live performance at the free online event "ASOBINOTES ONLINE FES" (organized by BANDAI NAMCO Entertainment Co., Ltd.) to be held on Sunday, June 28, 2020. With this live performance, which will be distributed worldwide without audiences, we will also hold a "real-time voting" that will connect with remote audiences.
For details, please refer to the attached sheet "Reference material".
System overview
Name: "BanaDIVE™ AX"
Developer: BANDAI NAMCO Research Inc.
Development cooperation: Smile Boom Co., Ltd. (HQ: Sapporo, Hokkaido)
Copywrite notice: © BANDAI NAMCO Research Inc.
END OF DOCUMENT
* "Pac-Man" and "Tekken" are registered trade marks of Bandai Namco Entertainment Inc.
* Information contained in this press release are as of the date of press release, which may be changed without notice after publication.
Your understanding on this matter will be appreciated.