The AI Gamer Q56 (Q-Goro)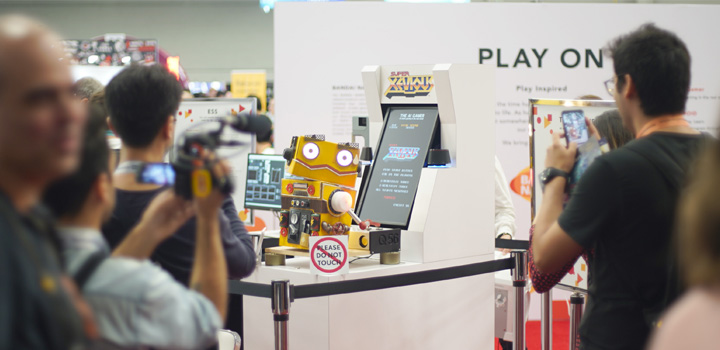 Understanding Technology on an Emotional Level
The AI Gamer Q56(Q-Goro)is a robot made with the aim of having people regard AI, which is typically perceived as difficult, in a familiar and affectionate way. With AI's reinforcement learning, AI plays a game and fails repeatedly to constantly improve. The robot, Q-Goro, was designed as a robot that can be seen trying hard to play games in order to make this learning process tangible and easy to understand for audiences.
Designed by Master of Entertainment Robots, Shigeki Toyama
Q-Goro's development was a team effort involving many of BANDAI NAMCO Research Inc's creators such as AI engineers, sound creators, mechanical designers, and electrical designers. The design was overseen by Shigeki Toyama, a creator involved in the creative design for shooting game, XEVIOUS, as well as many robot designs during the 1980s, when Namco Limited's robot business was booming.
Q-Goro's finished look gives is both retro and heart-warming.
Exhibit history
2019
Mar: SXSW 2019 (Austin, Texas, USA)
Aug: Kids Tour Day at Kasumigaseki (sponsored by Japan's Cabinet Office) (Kasumigaseki, Tokyo)
Aug: Kyokoko Live (Event for the revival of Soma city, Fukushima prefecture) (Soma, Fukushima)
Sep: Ars Electronica (Linz, Austria)
Oct: CEATEC (Makuhari, Tokyo)
The AI Gamer Q56 © BANDAI NAMCO Research Inc.
SUPER XEVIOUS ©BANDAI NAMCO Entertainment Inc.